This special report on Yukon mining plays was sent to Resource Opportunities subscribers on January 5. Share prices have been updated but market capitalizations reflect the timing of the dispatch. The last Resource Opportunities special offer was very well-received, so I'm offering a January special for those who missed out. New subscribers can get a 1-year discounted subscription for just $99 — a savings of $200 off the regular price — by entering coupon code JANUARY at this link. The year is young, but early portfolio company gains show why savvy speculators are choosing Resource Opportunities. Erdene Resource Development (ERD-T), a Resource Opportunities pick at 37.5 cents on Sept. 30, has surged to 86 cents on drilling success at the company's high-grade, near-surface gold discoveries in Mongolia. NexGen Energy (NXE-T), a Resource Opportunities pick at 30 cents, is approaching 10-bagger territory as excitement builds ahead of a resource update at its uber-high-grade Arrow uranium deposit in northern Saskatchewan. Join Resource Opportunities today and prosper!
January 5, 2017
By James Kwantes
Good morning and Happy New Year subscribers,
I trust you enjoyed the holidays. In the (SW) corner of Canada where I live, we experienced the novelty of a white Christmas — something most Canadians live through annually. Snow or not, the pace of life slows at this time of year, and so do the markets. While many junior mining stocks have rallied of late, it's a quiet time in the markets and volume is typically low.
It's also a quiet period in the Yukon, the focus of this dispatch. At the time of writing it was -19 Celsius (-2 Fahrenheit) in Whitehorse, the Yukon's capital, and even colder in the northern mining hub of Dawson: -22. The days are dark, and needless to say, mining projects in the Territory are buried under snow. News flow is frozen too.
Quite a contrast from July, when I toured several exploration and development projects that were buzzing with activity. Drills were turning, gold was riding high and M&A talk was in the air. One of our stops was Goldcorp's Coffee project, acquired from Kaminak Gold just two months earlier for $520 million. Agnico Eagle — one of the companies that was interested in Coffee — is the latest major to enter the Yukon, paying $14.5 million to acquire 19.9% of White Gold Corp. White Gold has the option to acquire more than 12,000 claims staked by legendary Yukon prospector Shawn Ryan, who will be a major shareholder of the new company.
So it's frozen, but signs of life are stirring beneath the snow cover. And parkas are required clothing for Yukon winters, but you don't buy one now. The best time to get bargain pricing on a winter coat is when you don't need it, after winter is over. Better yet, when the sun is blasting every day and the grass has died.
And the best time to pick up high-quality junior mining stocks with Northern projects for low prices is right now. This year the bargains are even better because of gold's decline from summer highs of US$1,365/oz to the current (still rather chilly) $1,1164/oz.
In alphabetical order, here are summaries of several Yukon plays whose share prices are likely to warm up along with the weather, as exploration and drilling programs get underway and results come in. The Yukon has long been recognized as one of the world's most prospective mineral jurisdictions — a contention validated by investments from Kinross (Underworld's White Gold project), Goldcorp and Agnico Eagle.
Things are buzzing again in the Yukon after a period of relative stagnation. Several of the Yukon plays have moved hard last week with gold's rise, but this isn't the big move. Just remember to take some profits when it's shorts and T-shirt weather, because all these stocks are cyclical. Please see important disclosures at the bottom. Good luck with your bargain hunting!
Arcus Development Group (ADG-V)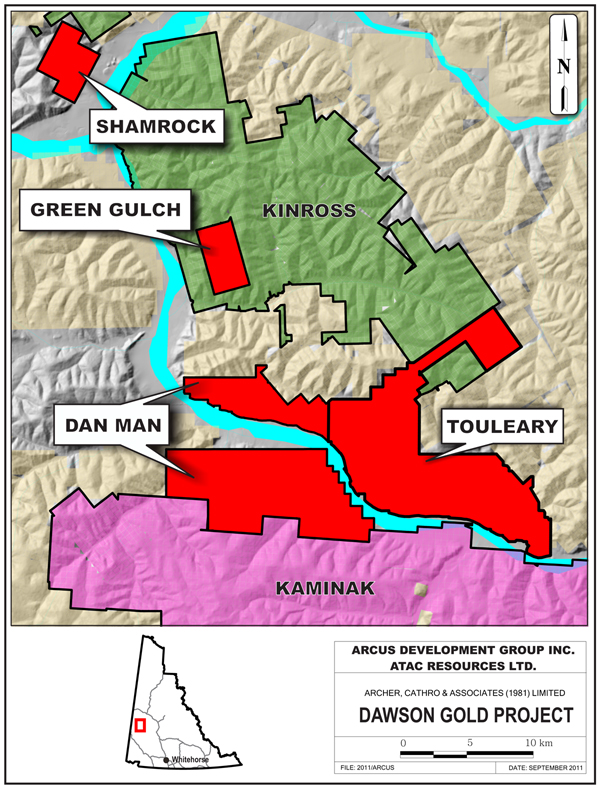 Arcus remains under the radar, but its properties are among the best in the prolific White Gold district. Chief among them is Dan Man north of Goldcorp's Coffee project, between Coffee and the Yukon River. Significantly, many of the 5 million ounces of gold at Coffee are located along north-south trending hydrothermal structures on the northern boundary, very near Dan Man. In October, Goldcorp took a 19.9% stake in Arcus after securing a similar foothold in Independence Gold, and Goldcorp will help design Arcus's 2017 exploration program. Arcus is run by Ian Talbot, a lawyer and exploration geologist who was in-house counsel for BHP Billiton in Vancouver. Presumably he knows a thing or two about dealing with majors. Talbot is also chief operating officer of Strategic Metals. With any kind of exploration success by Arcus at Dan Man, snapping up the rest of the company would be a no-brainer for Goldcorp. Agnico's recent investment in White Gold Corp. values the latter company at more than $70 million, many multiples of Arcus's market capitalization. The stock hasn't moved much, despite a likely drill program this year. For more on the company, see the special alert sent to Resource Opportunities subscribers on Oct. 24.
Price: 0.10
Shares outstanding: 72.8 million (88.5M fully diluted)
Market capitalization: $7.3 million
Current price: 0.115
Alexco Resource Corp. (AXR-T)
Alexco's latest assays from the high-grade Bermingham discovery can be measured in kilograms, not grams. The best intercepts (true width) included 7.16 metres of 4,375 g/t silver and 3.98 metres grading 6,477 g/t. On Tuesday Alexco updated its silver resource at Bermingham — indicated ounces grew from 5.2 to 17.3 million, inferred from 700,000 to 5.5 million ounces. Bermingham is one of two new deposits being explored by Alexco, which shut down operations at its Bellekeno mine in 2013 because of low silver prices. The other deposit is Flame & Moth, located near a processing plant that is ready to go at the flick of a switch — when silver prices cooperate. Indicated ounces in the entire Keno Hill district now sit at 67.5 million, up 22% from the previous tally. There are two major headwinds for Alexco: the silver price and a 25% silver stream that Silver Wheaton has on Alexco's entire district. The stream was the price Alexco paid to finance in October 2008 during the height of the financial crisis. The terms have been amended but are still very punitive, and renegotiating the stream is a top priority. Perspective: Alexco shares are not trading much higher now than they were when the company announced the Silver Wheaton financing. Alexco stock, which also trades on the NYSE MKT as AXU, offers tremendous leverage to the price of silver, currently US$16.50/oz.
Price: $1.97
Shares outstanding: 92.9 million (105M f-d)
Market capitalization: $183 million
Current price: $2.27
ATAC Resources (ATC-V)
ATAC is developing the Rackla project, Canada's only Carlin-type gold district in the mountains of the Yukon. The rocks are comparable in lithology, mineralization and age to the Nevada trend that has produced more than 50 million ounces of gold. Rackla is a vast 1,700-square-kilometre property but the 30-kilometre Nadaleen Trend in the east is where much of the high-grade gold has been found in recent years. The latest intercepts included 61.29 metres of 2.75 g/t Au in the Orion zone at Nadaleen. ATAC also has the PEA-stage Tiger deposit in the Rau trend on the western part of the property. ATAC has consistently returned intercepts that are off-the-charts rich for the Yukon, including 38.8 metres of 17.11 g/t Au (2010) and 30.79 metres of 9.5 g/t (2014). The gold is rich but the exploration is expensive — some of the sites with the most gold are on mountaintops and require helicopters to visit and drill. ATAC shares have powerful leverage to gold and reached $10 a share in the summer of 2011 — a fact that puts the 26% move since Dec. 21 into perspective. Also in 2016, ATAC released an updated PEA for Tiger with better economics, including significant boosts in NPV, recovered gold and mine life. The stock has made a round trip from 30 cents at the start of the year, to almost a dollar at the end of July, to the current 43.5 cents. The Yukon's White Gold district gets much of the attention these days. But Strategic Metals CEO Doug Eaton (Strategic owns 8.3% of ATC shares) reckons that in 100 years, the Nadaleen trend where ATAC has a dominant land position will have produced more gold than the Klondike trend that hosts the White Gold district. And Eaton probably knows as much about Yukon geology as anybody.
Price: 0.435
Shares outstanding: 122.8 million (131.35M f-d)
Market capitalization: $53.4 million
Current price: 0.40
Banyan Gold (BYN-V)
Banyan is a relatively new play in the southeastern corner of the Yukon that is exploring the Hyland project. The company has an almost 400,000-oz gold-equivalent resource at a grade of about a gram per tonne AuEq, with a goal of adding ounces. Banyan had some drilling success in the fall, announcing assays including 30.7 metres of 1.3 g/t Au and 8.0 g/t Ag. The company says its Hyland project has similar Carlin-type mineralization to ATAC's Rackla. There are also strong ties to Victoria Gold (VIT-V) — Victoria owns 8% of Banyan's stock and the company's chairman is Mark Ayranto, Victoria's executive vice-president. In August geological engineer Tara Christie was appointed Banyan's president — she comes from a powerful Yukon placer mining family and is married to Victoria Gold CEO John McConnell. Christie and Ayranto together own more than 8% of outstanding shares and the tight share structure ensures the stock will move on drilling success. I recently purchased some as a speculation.
Price: 0.05
Shares outstanding: 46.9 million (63M f-d)
Market capitalization: $2.4 million
Current price: 0.055
Golden Predator (GPY-V)
During my visit to Golden Predator's Three Aces project in July, I chipped rocks beside CEO Bill Sherriff as several of us searched for elusive visible gold (VG) at the site of a bulk sample. And we found some — it was Greg Hayes, then CFO and now a director, who identified some VG. Three Aces is Golden Predator's exploration project north of Watson Lake in southeastern Yukon and home to two of the highest-grade surface outcrops ever discovered in the Yukon. Assays from a 4,300-metre 2016 drill program that went late are expected to be released in early 2017, which could be a catalyst for the stock. This year the company plans to drill up to 25,000 metres, so plenty of news flow is likely. Golden Predator also owns the Brewery Creek mine, a past-producing heap-leach operation located east of Dawson. Golden Predator is well-funded, with backers including Eric Sprott, McEwen Mining and Pat DiCapo. CEO Sherriff is a savvy operator with a promising exploration project near infrastructure and a development project that is economic at a higher gold price.
Price: 0.75
Shares outstanding: 76.7 million (123.1M f-d)
Market capitalization: $57.5 million
Current price: 0.72
Independence Gold (IGO-V)
Independence Gold is exploring for high-grade gold on the property adjacent to Coffee's western boundary. Independence CEO Randy Turner is a closeology expert whose exploration chops have been honed by both skill and luck. Turner sold his Winspear Diamonds and its Snap Lake diamond project to De Beers for $305 million in 2000 and followed that up by selling Silver Quest and its 25% of the Blackwater gold project to New Gold (NGD-T) for $131 million in 2011. Luck: Turner happened to be holidaying in the Yukon with his wife when Kaminak announced its discovery hole at Coffee. He quickly staked virtually all the property on Coffee's western boundary and has been running small exploration programs ever since. Intercepts have included 7.23 g/t gold over 12.2 metres (Sunrise) and 4.56 g/t over 10 metres at Denali, the latter from surface. Goldcorp acquired 19.9% of Independence in June. IGO surged to 50 cents in the summer but is now trading at about the same valuation as when Goldcorp bought in. Unique to Independence is the bulging treasury: IGO has more than $6 million in the kitty and a market capitalization of just under $11 million. The stock was a Resource Opportunities pick at 8 cents (August 2015) and has risen 30% since Dec. 21. But there's plenty more upside here.
Price: 0.195
Shares outstanding: 55.5 million (59.3M f-d)
Market capitalization: $10.8 million
Current price: 0.185
Klondike Gold (KG-V)
2016 was a disappointing year for Klondike Gold shareholders. The stock ran from 11 cents to highs of 45 cents before plunging in August when the company announced several dusters at Violet Ridge, one of its Dawson-area projects. However, Klondike also consolidated an already dominant land position and announced some very good assays, particularly in the Nugget Zone and at Lone Star. 2017 has the possibility of starting out with a bang, too — Klondike has yet to release assays from its final holes at Lone Star, which were delayed by lab problems. With the larger land package, CEO Peter Tallman plans property-wide surveying to narrow down the best targets. Klondike's drilling costs are among the cheapest in the Yukon and Tallman is playing the long game. Major shareholders include billionaire financier Frank Giustra and Roberto Aquilini of the Vancouver-based billionaire family that owns a vast array of assets, including the Vancouver Canucks hockey team. Tallman is searching for the motherlode that has deposited 20 million ounces of gold into area creeks over the past 120 years. But the discovery of an economic deposit would make Klondike's stock worth many multiples of the current price. The journey between here and there will likely be bumpy but this is a low valuation considering the upside speculative potential.
Price: 0.195
Shares outstanding: 54 million (80M f-d)
Market capitalization: $10.5 million
Current price: 0.185
Rockhaven Resource Corp. (RK-V)
Rockhaven's Klaza is a high-grade polymetallic gold project with excellent infrastructure — you can drive a Honda Civic to the property, as CEO Matt Turner will tell you. But it also has a size problem: the deposit needs more ounces to improve economics. A PEA announced in March outlined a 14-year mine life that would start with an open pit and move underground, utilizing three (expensive) declines. Life-of-mine, the operation would produce 630,000 oz gold, 11.364 million oz silver, 51.2 million lbs lead, and 52.5 million lbs zinc. But total capex was $358 million and payback was 7 years, for a project with a pre-tax NPV (5% discount) of $150 million and IRR of 20% and after-tax NPV of $86 million and IRR of 14%. I published a sell recommendation in April at these levels, although still have exposure to Rockhaven through Strategic Metals, which owns 46.5% of Rockhaven shares (on Tuesday, Rockhaven announced it was settling a $2-million debt by issuing Strategic another 11,346,712 shares). Market reaction to the PEA last spring was tepid and Rockhaven shifted to drilling out and expanding the deposit. 2016 was a success on that front — drilling targeted near-surface veins that are close to the open pit but not included in the existing resource. In September, for example, Rockhaven hit 17.01 g/t gold over 4.32 metres in a stepout hole.
Price: 0.20
Shares outstanding: 118.4 million
Market capitalization: $23.7 million
Current price: 0.19
Strategic Metals (SMD-V)
Strategic Metals is a project generator with the largest claims position in the Yukon and a long list of assets, as well as a very healthy cash position. Strategic had dipped below 40 cents and was trading at working capital levels before bouncing in the last couple of weeks. The company has been busy recently with these moves aimed at creating shareholder value:
– spinning out Trifecta Gold, a new exploreco that will list on the TSXV and hold the Eureka, Triple Crown (formerly called OOO) and Treble (LLL) properties. The properties are located in the prolific White Gold district, which is heating up again. Most of the Trifecta shares will be distributed to SMD shareholders, with Strategic also retaining a stake;
– optioning the Keno Summit and Gram properties in the Yukon's Keno Hill silver district to Metallic Minerals (MMG-V), a new exploreco helmed by former Wellgreen Platinum CEO Greg Johnson;
– spinning out wholly owned subsidiary Terra CO2 Technologies. Terra CO2 is a green-tech company working on a technology that treats acid rock drainage by reacting it with discharged CO2 to produce a stable metal carbonate compound and saleable sulphur byproducts. Terra CO2 has reached the semifinals of the international Carbon XPRIZE competition, where first prize is US$7.5 million.
Strategic has almost half of its market cap ($20 million) in cash and stakes in dozens of explorecos, including:
– 8.3% of ATAC shares
– 46.5% of Rockhaven shares
– 32.5% of Precipitate Gold (PRG-V) shares
– 16.5% of Silver Range (SNG-V) shares
Perspective: Metallic Minerals, the new company that acquired Strategic's two Keno Hill properties, has a market cap of $14 million. That's about a third of the market cap of Strategic, which has a host of valuable assets, significant stakes in several explorecos and a large cash pile.
Price: 0.475
Shares outstanding: 89.1 million (93.5M f-d)
Market capitalization: $42.3 million
Current price: 0.53
Victoria Gold (VIT-V)
Victoria's Eagle gold project is shovel-ready, with all permits in hand and an agreement with the local First Nations. Victoria has a mineral reserve of 2.7 million ounces and the potential to produce 200,000 ounces annually at low costs. It's a lower-grade operation (.73 g/t Au), but a low strip ratio and the addition of richer satellite deposits sweeten the economics. At a US$1,250/oz gold price and a 78-cent dollar, Eagle has a post-tax NPV of $508 million and IRR of 29.5%. Last year, speculation that Victoria Gold could be the next company to sell to a major took shares above 75 cents. The stock drifted down to the low-.40s last month and has since rebounded.
Price: 0.57
Shares outstanding: 503 million
Market cap: $286.7 million
Current price: 0.54
Western Copper and Gold (WRN-T)
There are vast stores of gold and copper at Western's Casino project, located near Goldcorp's Coffee deposit. Casino's proven and probable reserves measure 8.9 million ounces of gold and 4.5 billion pounds of copper, with a further 9 million gold ounces and 5.4 billion pounds of copper in the Inferred category. It would be the biggest mine in Yukon history and a major economic driver, with a 22-year mine life and capex of almost $2.5 billion. An LNG plant would power the whole operation. But Casino is also a dice roll because the project has been stuck in the laborious permitting process. That's in large part due to a massive tailings dam, which was the subject of an independent review panel that suggested a few design changes. One of the changes will result in significantly less water — 80% less — than the prior iteration. Memories of the August 2014 tailings dam failure at Imperial Metals' Mount Polley mine in British Columbia and the more serious Samarco disaster, which killed 19 people, loom in the background here. Western has an airstrip and currently transports materials by barge to the site, but a 120-kilometre unpaved road is planned. Because of the project's size and footprint, Western is dealing with three separate First Nations. Permitting progress is never too headline-grabbing. But the stock has moved hard from the 30-cent level less than a year ago and Western is taking steps to derisk the project as it moves through permitting.
Price: $1.87
Shares outstanding: 94.5 million (100.5M f-d)
Market capitalization: $176.7 million
Current price: $1.85
Disclosure: I own shares of Arcus Development Group, Alexco Resource Corp., Banyan Gold, Independence Gold, Klondike Gold and Strategic Metals. Strategic Metals is a Resource Opportunities sponsor.
Contact: Email james.kwantes@gmail.com with any comments, questions or concerns, and james.kwantes@gmail.com for subscription-related inquiries. www.ResourceOpportunities.com
Editorial Policy: Companies are selected for presentation in this publication strictly on their merits, and Resource Opportunities sponsors are selected on their merits as well. No fee is charged to companies for inclusion, and a small number of sponsor companies help financially support the subscriber-funded newsletter by keeping subscription prices low. Dollar and $ refer to Canadian dollars, unless stated otherwise or obvious from the context (for example, a share price on a Canadian exchange).
Disclaimer: Readers are advised that the material contained herein is solely for information purposes. Readers are encouraged to conduct their own research and due diligence, and/or obtain professional advice. Nothing contained herein constitutes a representation by the publisher, nor a solicitation for the purchase or sale of securities. The information contained herein is based on sources which the publisher believes to be reliable, but is not guaranteed to be accurate, and does not purport to be a complete statement or summary of the available data. Any opinions expressed are subject to change without notice. The author and their associates are not responsible for errors or omissions. They may from time to time have a position in the securities of the companies mentioned herein, and may change their positions without notice. (Any positions will be disclosed explicitly.)
Copyright: This publication may not be reproduced in whole or in part, in any form, without the express permission of the publisher. Permission is given to extract parts of the report for inclusion or review in other publications only if credit is given, including the name and address of the publisher.