by James Kwantes
Editor, Resource Opportunities
Gold in Nevada.
It's been a company maker for several of the world's most successful mining companies, notably Barrick Gold (ABX-T) and Franco-Nevada (FNV-T). Barrick's purchase of Goldstrike and subsequent discoveries turned the property into a 50-million-ounce monster and Barrick into the world's No. 1 gold miner. Franco-Nevada's 4% royalty on Goldstrike laid the foundation for what has become a $13-billion market cap royalty juggernaut.
Key to the Nevada gold story is Cordex, the exploration firm founded by legendary geologist John Livermore. Livermore found the Carlin mine and discovered a new type of gold mineralization known as Carlin-type. Under the leadership of Livermore and later Andy Wallace, Cordex is credited with 9 significant gold discoveries in Nevada, including the multi-million-ounce Carlin and Marigold mines.
In the space of 50 years, Nevada has become the world's best gold mining jurisdiction. The state's largest export partner is Switzerland, a testament to the amount of gold that starts under the Nevada desert and ends up in bank vaults in the wealthy European banking centre.
Nevada gold is also, increasingly, the focus of Columbus Gold (CGT-T), which earlier this week released a maiden resource estimate for its Eastside gold deposit in the state. At a .15 g/t cutoff and US$1,300/oz gold, Eastside hosts an Inferred resource of 654,000 ounces of gold at average grades of .57 g/t and 3.999 million ounces of silver at grades of 3.5 g/t. It works out to 721,000 ounces of gold equivalent.
The first pass at a resource estimate is literally scratching the surface at Eastside, notes Columbus Gold Chairman and CEO Robert Giustra. Only about 50% of mineralized material was included in the pit-constrained resource estimate, and the deposit is open at depth and to the south and west. Metallurgy tests have demonstrated the gold and silver is amenable to cyanide leaching, whether oxide or sulfide.
"Considering that only about one square kilometer of the large 58-square-kilometer property has been drilled so far, and only 136 holes drilled, a maiden resource of 721,000 ounces constrained in a pit, is an excellent start," Giustra said.
And Columbus is busy planning its next steps, most recently consolidating its land package and planning the next drill campaign. The architect of value creation in Nevada is none other than geologist Andy Wallace of Cordex, Columbus's exclusive exploration partner in Nevada. In a nutshell, Columbus has a Nevada discovery pioneer running their exploration programs in one of the world's best gold mining jurisdictions. It bodes well as 2017 comes into focus.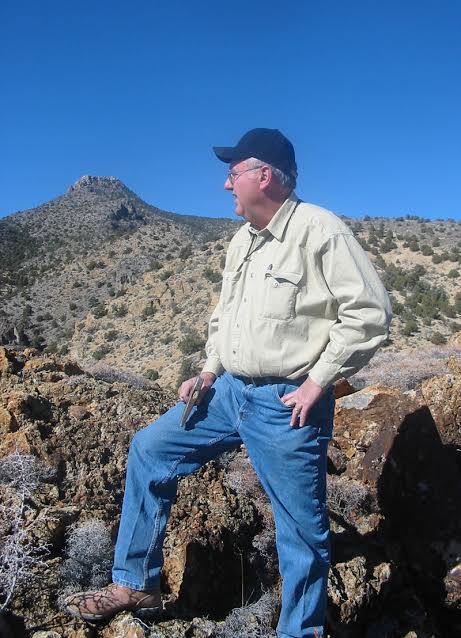 While the maiden resource estimate was being prepared, Columbus turned its attention to grassroots exploration. Company geologists used mapping and geochemical sampling — including 3,400 surface samples — to identify 41 rhyolite domes. The domes are important geological features associated with gold mineralization at the Original Target, where most of the resource drilling at Eastside took place.
The domes range in diameter from 100 to 1,000 metres and are located along dozens of faults on Columbus's claim block, mostly trending north or northeast. At one of its highest-priority targets, Target 5 (eight kilometres south of the Original Target), Columbus recently received a permit to construct a road and drill pads and drill 12 holes.
The company also recently concluded two deals at its 100% owned Bolo gold property, northeast of Eastside, that expanded the land package and eliminated a royalty. Bolo is a secondary Nevada exploration property, but Columbus is considering a small drill program after the land consolidation. Mineralization is Carlin-type and occurs in pods along two parallel faults, each of them more than 2.2 kilometres along strike. That makes it higher-risk exploration.
However, several of the 2013 holes hit impressive high-grade, near-surface intercepts at the South Zone of the Mine Fault, including:
133 meters of 1.28 g/t gold from surface (including 30.5 m of 3.24 g/t gold) in BL-38;
89.9 meters of 1.0 g/t gold (including 40.9 m of 2.05 g/t gold) from surface in BL-39; and
51.8 meters of 1.27 g/t gold from surface in BL-41.
As for the land agreements, they're a testament to the benefit and cost savings that can be achieved by having an experienced hand on the ground in Nevada. In the first, Columbus opportunistically picked up the "Uncle Sam" patented claim after the claim holder stopped paying taxes on the land. Columbus petitioned the county to secure the claims, then patiently and quietly went through a multi-step legal process that ended with them securing the land. Uncle Sam is a key claim on the southern end of the South Mine Fault Zone — near some of the best drill holes — and it was picked up for a relative song, CEO Giustra says. Surface sampling at Uncle Sam is underway.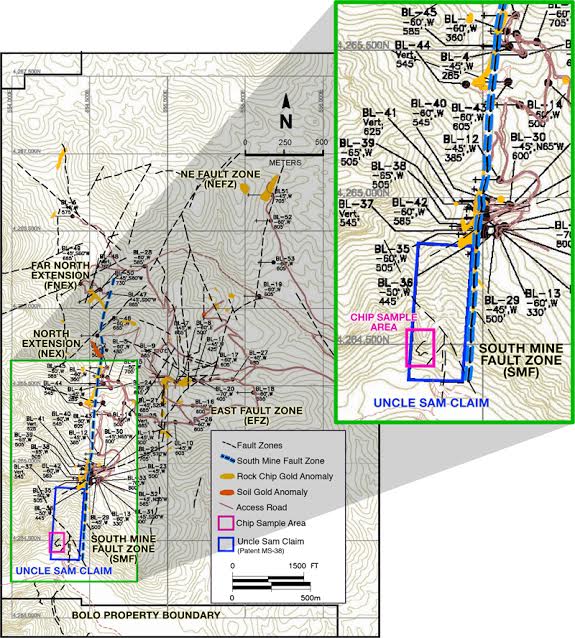 In the other deal, Columbus eliminated an underlying 1-3% NSR royalty on Bolo by swapping its Weepah property to the royalty holder. Weepah was a non-core property located south of Eastside.
2017 is also shaping up to be a big year at Montagne d'Or, Columbus's multi-million-ounce gold deposit in French Guiana. Montagne d'Or hosts an in-pit gold resource of 3.9 million ounces Indicated at average grades of 1.45 g/t and an additional 1.1 million Inferred ounces at a grade of 1.55 g/t, at a 0.4 g/t cut-off.
A bankable feasibility study for Montagne d'Or is expected to land in the first quarter. Gold miner Nordgold can secure a 55.01% interest in the project by funding a minimum of US$30 million in exploration expenditures and completing the FS. Montagne d'Or has excellent infrastructure and would be one of the highest-grade open pit gold projects in the Americas. At a US$1,200 gold price, a PEA for Montagne d'Or modelled an NPV of US$450 million (5% discount rate), after-tax IRR of 23% and annual gold production of 273,000 ounces in the first 10 years at all-in sustaining costs of US$711/oz. Capex would be US$366 million, with a 3-year payback.
JV partner Nordgold is the natural acquirer for Columbus's 44.99% stake in Montagne d'Or. Nordgold is a fast-growing and acquisitive Russian-based producer listed on the London Stock Exchange. The company operates 9 mines in Russia, Kazakhstan, Burkina Faso and Guinea and produced 950,000 ounces of gold in 2015. Its newest operation is the Bouly gold mine in Burkina Faso, which went into production in September after a 13-month build that came in under budget.
Nordgold's latest financials paint a picture of a thriving mining company generating healthy cash flow. In the third quarter of 2016, Nordgold generated EBITDA of US$131.8 million and operating cash flow of US$109 million on revenue of US$278 million.. The company's Gross mine in Russia is expected to go into production in the first quarter of 2018, after which Montagne d'Or will be the only major gold deposit in Nordgold's pipeline.
But rather than sit back and wait for a takeover offer, Columbus is working to add value to an already strong project. The company is mobilizing for a 41-hole, 6,750-metre drill program testing targets both within and outside the deposit envelope. Columbus will test the west and east extensions of Montagne d'Or, including a geochemical anomaly 750 metres east of the deposit where a historical hole hit 31.94 g/t gold over 3.5 metres. In addition, two holes will test the depth of mineralization — little drilling has been done below 250 metres at Montagne d'Or. Drill permits are in hand and Columbus is building roads and drill pads and mobilizing drills this month. Columbus is fully financing the exploration program.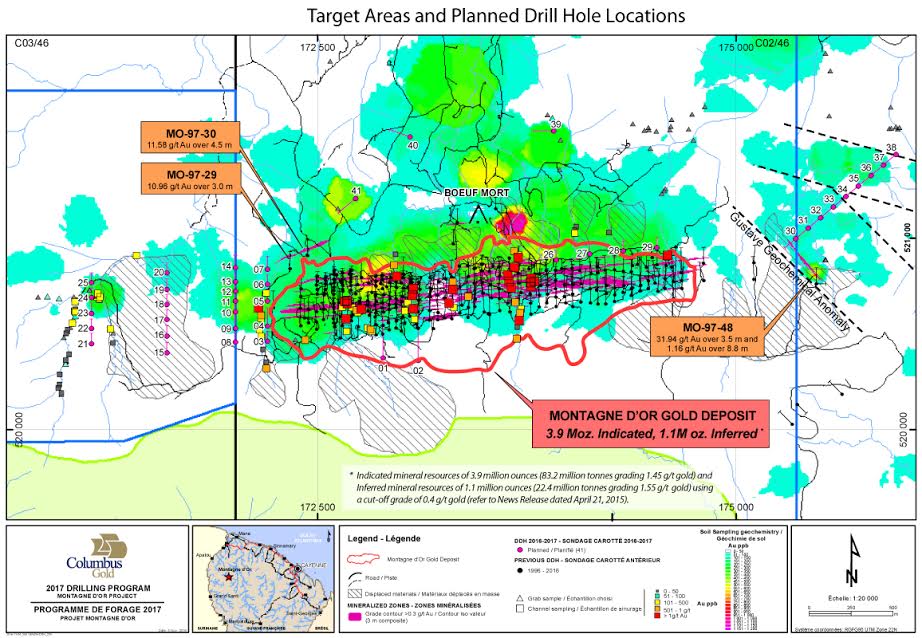 Columbus shares have outperformed the S&P/TSX Venture Composite Index this year. But the stock has drifted down along with the entire junior sector since the summer, when gold peaked at US$1,350 an ounce. After hitting a 52-week high of 93 cents in August, Columbus shares have fallen to 54 cents on the Toronto Stock Exchange, giving the company a market capitalization of about $77.2 million.
But in intensifying the downward pressure on Columbus shares, tax-loss selling creates opportunity for investors. Columbus is a catalyst-rich gold play with active drill programs at both the Montagne d'Or development project in French Guiana and the Eastside exploration project in Nevada.
In Nordgold, Columbus is partnering with an acquisitive, world-class gold producer to develop a five-million-ounce gold deposit in the Americas. In Nevada, one of the world's best gold mining jurisdictions, Columbus is advancing exploration both at and beyond its Eastside project. A follow-up drill program is being planned at Eastside, where a just-published maiden resource estimate shows an Inferred resource of 721,000 ounces of gold equivalent at .63 g/t AuEq at a cut-off grade of 0.15 g/t and a gold price of US$1,300/oz.
Columbus Gold (CGT-T)
Price: .54
Shares outstanding: 142.9 million
Market capitalization: $77.2 million
Treasury: $5.2 million (as of Aug. 31)
Disclosure: Author is long Columbus Gold shares and the company is a Resource Opportunities sponsor. This article is presented for informational purposes only and should not be considered investment advice. Junior mining investments are speculative and not suitable for many investors. Always do your own due diligence. Nothing contained herein constitutes a representation by the publisher, nor a solicitation for the purchase or sale of securities. The information contained herein is based on sources which the publisher believes to be reliable, but is not guaranteed to be accurate, and does not purport to be a complete statement or summary of the available data. Any opinions expressed are subject to change without notice. The author and their associates are not responsible for errors or omissions.