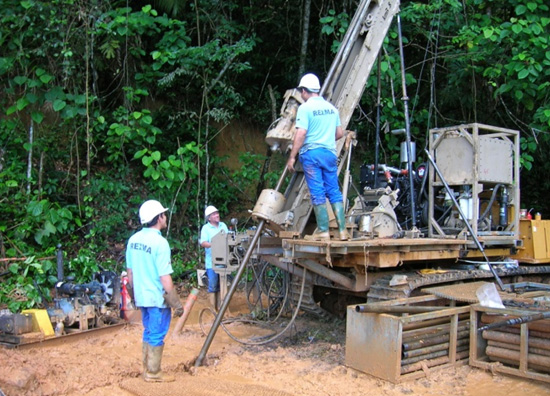 Drilling at Montagne d'Or in French Guiana
On March 20, Columbus Gold (CGT-T) released a bankable Feasibility Study on its Montagne d'Or gold deposit in French Guiana. The study was funded by major Nordgold, which earned into a total 55.01% interest in the project by completing it on an accelerated three-year timeline. The FS showed a net present value of US$370 million ($500 million Cdn) at a 5% discount rate and an after-tax Internal Rate of Return of 18.7%, at US$1,250/oz gold. Average annual gold production for the first 10 years (12-year mine life) would be 237,000 ounces at an average grade of 1.73 g/t, based on proven and probable reserves of 2.745 million ounces of gold.
The economic study vaulted Columbus Gold into a small group of companies globally with advanced-stage, FS-level projects capable of producing more than 200,000 ounces a year at above-average gold grades. However, investors focused on the lower-than-expected 18.7% after-tax IRR (a 2015 PEA with higher production showed an after-tax IRR of 23%). The following day Columbus shares fell 12% (from 99 cents to 87 cents). The stock has since recovered to 93 cents for a market capitalization of $142.1 million.
2017 is shaping up to be a catalyst-rich year for Columbus, so those who sold the stock may be missing out on value. Consider these factors:
Economics. With some modest investments in infill drilling and optimization, the after-tax IRR on Montagne d'Or is likely to move to 20% or even higher. And the major mining companies now taking a hard look at the 5-million-ounce Montagne d'Or deposit are interested even below 20%. With the FS in the bank, Nordgold now has 90 days to make a construction decision. If Nordgold goes ahead, Columbus can elect to fund its portion by diluting its interest in the project. The dilution formula was pegged to the number of reserve ounces outlined in the FS, giving Nordgold a disincentive to improving project economics. The deposit has 3.9 million Measured and Indicated ounces but only 2.75 million of those made it into proven and probable reserves. Now that Montagne d'Or is owned 55% Nordgold/45% Columbus, the JV partners are on the same page — making the economics robust and/or getting top dollar for the deposit.
Size. Size matters to majors, which wring out profits through economies of scale. The majors are increasingly only interested in mineral deposits they can turn into districts. Replenishing ounces has never been more critical in an industry where assets decline by the day. The large and growing (see #3) Montagne d'Or deposit fits the bill.
Drilling. The FS is an important milestone but not the finish line. Columbus is cashed-up and drilling at Montagne d'Or, for both resource expansion and discovery. The program consists of 36 core holes and 5,520 metres testing four target areas. One long 750-metre hole tested the depth extension of gold mineralization under the deposit envelope. Other holes will test the west extension of the deposit, a geochemical anomaly 750 metres east of the deposit, and mesothermal quartz/gold vein systems. Montagne d'Or is already a large deposit — hitting on this drill program will make it even more valuable.
Eastside in Nevada. Once Montagne d'Or is sold or developed, Eastside likely becomes Columbus Gold's flagship project. Last year Columbus released a maiden resource estimate on Eastside showing an Inferred, pit-constrained resource of 721,000 ounces gold-equivalent, at an overall grade of 0.63 g/t. That resource is confined to just one square kilometre on the 58-square-km project. In January, Columbus added another 272,153 gold ounces (historical estimate) by purchasing claims adjoining Eastside's southern boundary. Columbus has been quietly adding to its Nevada land package and systematically zeroing in on top targets. A 12-hole, 3,700-metre drill program is underway on a target that is geologically identical to the Original Target, which hosts the 721,000-ounce resource.
Andy Wallace. The geologist is the principal of Cordex Exploration and runs Columbus Gold's Nevada operations. Cordex was founded by the late John Livermore, who became the father of Nevada gold mining when he discovered the Carlin gold mine and a new type of mineralization known as Carlin-type. Wallace joined Cordex in 1974 at the height of the Nevada gold rush and has worked there ever since. Cordex is credited with multiple major discoveries in Nevada, several of them under his management. Wallace's experience and expertise gives Columbus an important edge in one of the best gold mining jurisdictions on the planet.
Columbus Gold (CGT-T)
Price: 0.93
Shares outstanding: 152.77 million
Market capitalization: $142 million
Disclosure: Author is long Columbus Gold shares and the company is a Resource Opportunities sponsor. This article is presented for informational purposes only and should not be considered investment advice. Junior mining investments are speculative and not suitable for many investors. Always do your own due diligence. Nothing contained herein constitutes a representation by the publisher, nor a solicitation for the purchase or sale of securities. The information contained herein is based on sources which the publisher believes to be reliable, but is not guaranteed to be accurate, and does not purport to be a complete statement or summary of the available data. Any opinions expressed are subject to change without notice. The author and their associates are not responsible for errors or omissions.