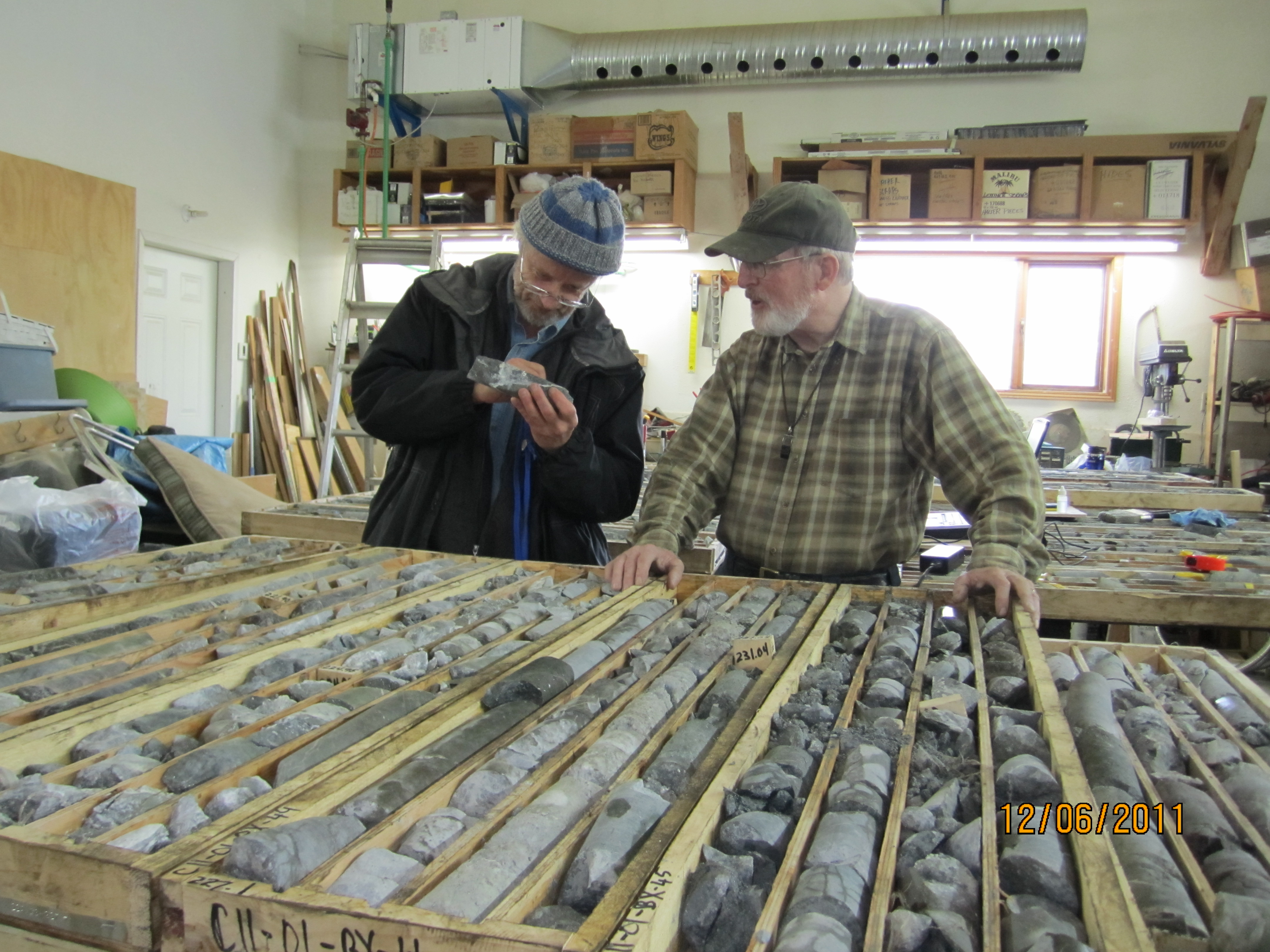 By James Kwantes
Editor and publisher, Resource Opportunities
Speculating in junior mining equities is a dangerous — and sometimes extremely lucrative — game. Some of the key qualities that lay the groundwork for shareholder value creation in an exploration play are:
Serially successful management

High-quality projects

Stable jurisdictions

The right commodity, at the right time

Tight share structure.
Discovery drill plays carry both the most risk and potential reward. A discovery can create tremendous — even life-changing — shareholder value. But it's only the drill — aka the "truth machine" — that will determine whether an economic ore body lurks beneath the surface. Orestone Mining Corp. (ORS-V) is funded to drill two large porphyry targets in British Columbia and Chile and has positioned itself for success by ticking the above boxes.
Next comes a drill program at Orestone's Captain property, which is host to a large gold-copper porphyry target near Centerra's Gold's Mount Milligan copper-gold mine northwest of Prince George. Orestone plans to drill between up to 1,250 metres in 5 holes at its Admiral target. The project is located on flat terrain and accessible via logging roads, making year-round exploration possible.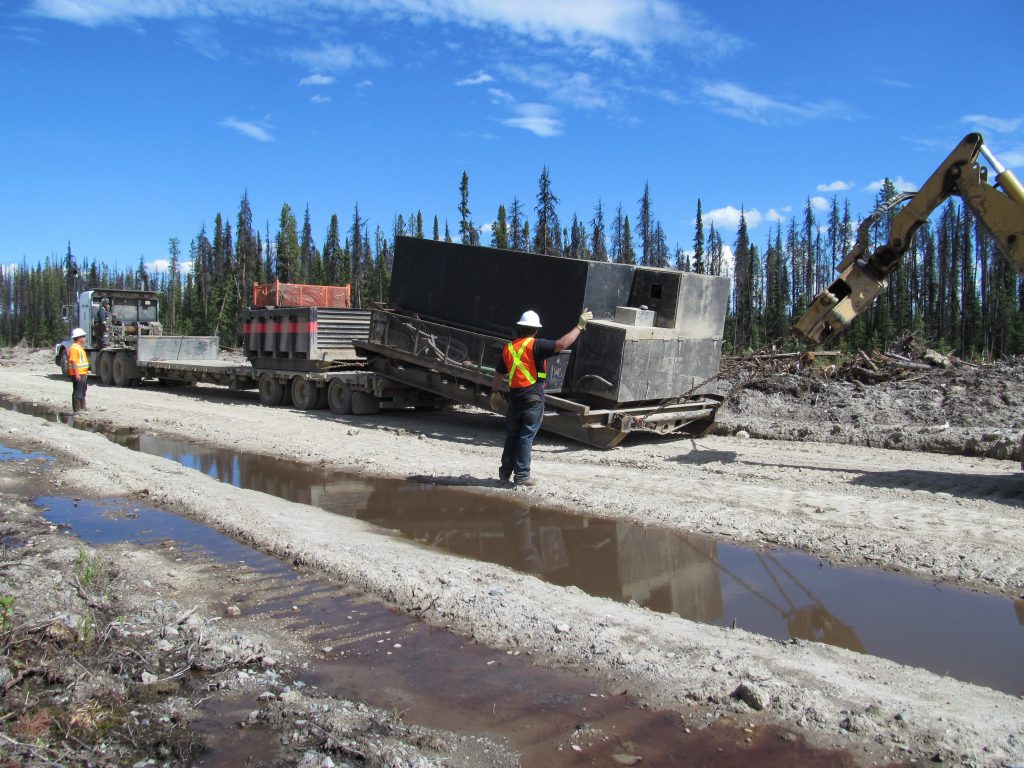 Mobilizing the drill at the Captain project.
I initiated coverage on Orestone at 7 cents in Resource Opportunities on Sept. 26, 2018 and the stock has since traded as high as 25 cents. Shares now trade at 12.5 cents, giving the company a market capitalization of about $3 million — very modest compared to other cashed-up, high-potential drill plays. Orestone has about $700,000 in the treasury and is raising another $500,000 in flow-through funds to drill Captain. The company is selling 16-cent units, each of which includes one flow-through share and half a warrant (one-year, 22-cent).
Orestone has a clean share structure, with a serially successful management team advancing two high-calibre projects in neighbourhoods that host very large mines. Let's take a closer look.
MANAGEMENT
Orestone's chairman and CEO David Hottman and Gary Nordin, an Orestone director and senior consulting geologist, have deep industry experience with successful companies including Bema Gold, Eldorado Gold, Nevada Pacific Gold and Polaris Materials. All of those companies were acquired by larger companies except for Eldorado Gold.
Nordin, a co-founding director and VP of Bema, has been directly involved in several multi-million-ounce gold discoveries, including Refugio in Chile (6-8M oz). He was also a co-founder, director and VP of Eldorado, where he was involved in the Kisladag discovery in Turkey (12M oz) and La Colorada in Mexico (1M oz). Hottman owns about 5.3% of Orestone's outstanding shares; Nordin owns 4.2%.
The latest team member is Bruce Winfield, appointed president on June 3, and I recently stopped by Orestone's modest Vancouver offices to meet him. Winfield is a Spanish-speaking geologist who got his first taste of Latin America working on the Cerro Colorado porphyry deposit in Panama for Texas Gulf. He later spent three years working in Spain, including opening a Boliden office in Madrid.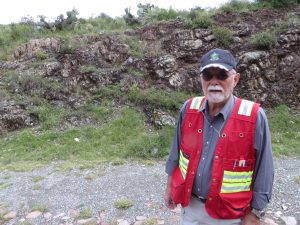 When Winfield (right) returned to North America, Latin America was opening up to mining and his language and operations skills were in demand. He spent seven years working for Greenstone Resources, where he helped acquire and develop four deposits that later became producing mines. One of those was La Libertad gold mine in Nicaragua, the first asset sold after the defeat of the Sandinista government.
La Libertad later became one of B2Gold's foundational assets (B2Gold recently sold La Libertad to Calibre Mining).
Winfield also spent two years working with Hottman and Nordin at Eldorado Gold, where he was VP Exploration. The focus during his first year there was to increase the resources at the La Colorada mine in Sonora, Mexico to expand production. La Colorada is now owned by Argonaut Gold.
During his second year at Eldorado, the company bought Gencor's Brazilian and Turkish assets, which included nearly 24,000 square miles of exploration land including several small resources. Persistent exploration subsequently yielded the prolific Kisladag gold porphyry discovery. Winfield was most recently president and CEO of Defiance Silver (DEF-V), a Mexico-focused silver exploration company.
Orestone's bench strength extends to the board. Director Julia Aspillaga is a Chilean national who played a key role in the development of the Refugio deposit for Bema Gold and also brought the group the Cerro Casale project, where a mineral reserve and resource of more than 23 million ounces of gold, 5.8 billion pounds of copper and 58 million ounces of silver has been drilled off. Barrick Gold and Newmont-Goldcorp are now 50-50 partners on the project.
Daniels is a mining engineer who graduated from the Colorado School of Mines and has worked in 13 countries and more than 50 projects with companies including Gustavson Associates and Caterpillar. Daniels worked on the startup of Bema Gold's Champagne gold mine in Idaho, the company's first producing asset, in 1989-90.
PROJECTS
The flagship Captain project in northern British Columbia is a gold-copper porphyry target about 30 kilometres (18.6 miles) south of Centerra Gold's open-pit Mount Milligan copper-gold mine. With drill permits in hand, Orestone is mobilizing the rig and plans to start drilling later this week, once the flow-through financing closes.
During the last drill program, in 2013, hole C13-03 hit a three-metre xenolith fragment of highly altered rock grading 1.9 g/t gold and 0.226% copper over three metres, within a post-mineral dyke.
Orestone's Gary Nordin believes that fragment is a transported piece of a 2-kilometre by 1-kilometre monzonite porphyry body that correlates with an Induced Polarization (IP) anomaly. The drill will target that interpreted mineralized body with five initial drill holes and about 1,000 to 1,250 metres. The modest program has the potential to hit "pay dirt" — Mount Milligan to the north has proven and probable reserves of 4.7 million ounces of gold and 1.8 billion pounds of copper.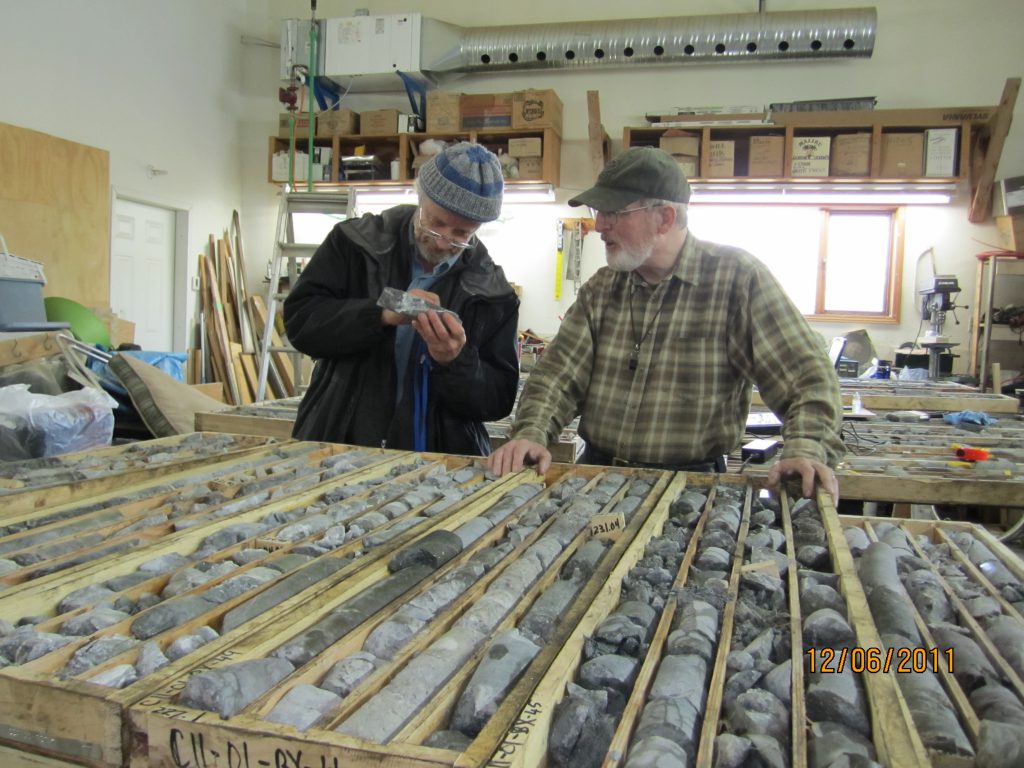 Geologists Gary Nordin, left, and Barney Bowen check out historic core.
The Resguardo project is an 11.3-square-mile copper-gold porphyry target that covers historic oxide copper workings northeast of Copiapo, Chile. A large IP chargeability anomaly under the oxide copper suggests there could be a sulphide copper porphyry at depth — theory that has never been tested. That's the target for Orestone's planned drill program.There are several giant gold and copper-gold deposits within 100 kilometres of Resguardo, including El Salvador (CODELCO), Cerro Casale (Barrick/Newmont-Goldcorp), Candelaria (Lundin Mining) and Maricunga (Kinross).
STABLE JURISDICTION
British Columbia has its detractors, but the province remains a favourable place to operate large mines. Australian gold giant Newcrest evidently thinks so, having recently purchased a 70% interest in Imperial Metals' Red Chris mine for US$807 million. So does Teck, which operates copper and coal mines in B.C. and recently bought a 14% stake in B.C. copper-gold explorer Sun Metals.
As for Chile, the nation produces up to a third of the world's copper and plenty of gold. Much of the metals come from giant deposits — of 5-30M oz gold and/or more than 5 million tonnes of contained copper. Chile is recognized as one of the most stable mining jurisdictions in the world. And in director Julia Aspillaga, Orestone has a capable operator with excellent in-country connections.
COMMODITY
The gold market has come alive and looks better than it has in years — since 2013, to be precise. And back then, gold was on its way down after hitting US$1,900 an ounce. Copper has been weaker — along with the other base metals — on U.S.-China trade wars and growing fears about the health of the global economy. The civilization metal appears to be basing at the US$2.60 level. Copper's long-term demand case remains intact, however, and a supply crunch is looming as legacy mines deplete their reserves and begin to shut down.
Orestone's timing could be fortuitous. The company is focusing on a deposit type — gold-copper porphyrys — that is expected to produce an increasing amount of the world's gold, according to a July 2014 article in the Society of Economic Geologists newsletter. Copper-gold porphyrys have only been mined since the 20th century. Orogenic gold deposits have been mined for thousands of years, while the Witwatersrand has been producing gold since the late 19th century. Production in the rich South African gold belt — an important gold source — has steadily declined since 1970.
Orestone has two planned drill programs in "elephant country" for porphyry deposits. With drilling success, the company projects could eventually contribute to global gold and copper production in already established mining camps. Owning Orestone shares gives you exposure to two large exploration plays and the potential for a dramatic rerating from this $3-million valuation.
Orestone Mining Corp. (ORS-V)
Price: 0.125
Shares outstanding: 23.8 million (39.6M fully diluted)
Market cap: $3 million
Disclosure: James Kwantes owns Orestone shares and the company is a sponsor of Resource Opportunities. Orestone is a lightly traded, high-risk junior exploration stock. This is not financial advice and all investors need to perform their own due diligence.