by James Kwantes
Editor and publisher,
Resource Opportunities
Site visit: Kodiak Copper MPD project (October 17, 2020)
Sent to Resource Opportunities Premium Subscribers pre-market on Oct. 20
Dear subscriber,
My final site visit of the year — on Saturday, Oct. 17 — took me to Kodiak Copper's MPD project and core facility outside Merritt, in the heart of southwestern B.C.'s copper porphyry country. It's a three-hour drive from Vancouver. En route, the snow was already flying at the summit of the Coquihalla Highway pass — elevation 1,244 metres (4,000 feet). But at site, the only winter weather to be found was a chill in the air. That's typical for the area, which usually experiences hot summers and mild winters with minimal snowfall.
The favourable weather — and year-round exploration possibilities — is one of the reasons Kodiak has further upside potential, even from these relatively lofty levels. Kodiak has added about $80 million in market capitalization since I touched on it in the August 16 letter, and about $40 million since the Sept. 3 Flash Alert. As the sector has lagged, the stock has run hard on the high-grade copper-gold intercept announced on September 3. KDK is no longer cheap and there are expectations built in. There's also still much to like. I have averaged up twice since the initial 43-cent purchase outlined in the Aug. 16 letter — at $1.65 and at current levels.
The site visit started at Kodiak's temporary core shack on the outskirts of Merritt. The company is rapidly outgrowing the facility, where it shares space with a salvage yard. The core shack was formerly used by both Westhaven Gold and Kaizen Exploration. Kodiak is looking for a more suitable processing and storage site as the metres build at MPD.
Both chairman Chris Taylor and president/CEO Claudia Tornquist were present, along with Discovery Group founder John Robins, analysts and Kodiak geologists (Taylor had to leave early to fly to Red Lake). Hole 4 — which returned 282 metres of 0.7% copper and 0.49 g/t gold, including 45.7m of 1.41% Cu and 1.46 g/t Au — was in the core boxes. The highlight intersection was heavily magnetic — copper occurs in the magnetite-rich rock.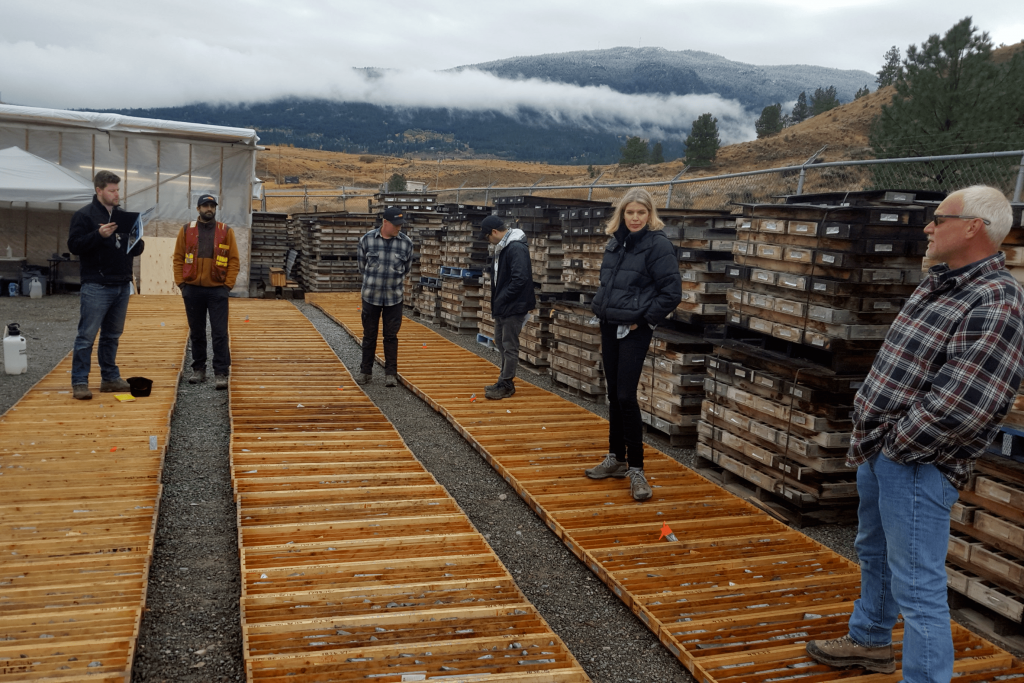 Kodiak CEO Claudia Tornquist and chairman Chris Taylor (third from right) at the core facility outside Merritt.
Kodiak is now drilling hole 8 and assays are pending on holes 3, 5, 6 and 7 (5,316 metres have been drilled in 7 holes this year). The company has described hole 5 as carrying "similar porphyry-style sulphide mineralization" as hole 4. But the strong correlation between magnetics and copper mineralization offer hints of good assays to come — holes 5, 6 and 7 all have significant magnetic signatures. The gold values, in turn, seem to be closely correlated with the copper — at least in hole 4.
On Oct. 22, Kodiak reported complete assays for the remainder of hole 4 as well as for hole 2. Hole 4 intersected 535.1 metres of 0.49% copper and 0.29 g/t gold, or 0.76% CuEq, starting from about 200 metres downhole. Hole 2 assays were lower-grade, intersecting 642 metres grading 0.21% Cu and 0.06 g/t Au from 173 metres downhole, including 32.8 metres of 0.46% Cu and 0.12 g/t Au.
Chris Taylor is getting quite good at formulating new geological interpretations that drive discovery and create shareholder value. The acquisition of Man, Prime and Dillard (MPD) came together after a trip he took to the area looking for porphyry projects, his specialty (Taylor worked as a project geologist for B.C. porphyry operator Imperial Metals for five years).
At MPD, 129 historical drill holes and 25,780 metres had been drilled across the properties by operators including Rio Tinto and Newmont. But few of those holes went below 200 metres vertical depth. Taylor saw deeper drilling as key at the property, which has copper showings at surface and in drilling and trenches over a 10-sq-km area. The Gate Zone discovery hole (MPD-19-003), announced Jan. 16 to little fanfare, hit 102 metres of 0.53 Cu and 0.16 g/t Au — the best hole in the 50-year history of the property. The highlight intercept in hole 4 improved upon that by a wide margin.
The consolidation of the Man, Prime and Dillard properties followed a familiar script, especially for Great Bear shareholders — Taylor seeing value where others did not. As he put it during the site visit, "MPD was a great project to buy because everyone thought it was shit." Kodiak paid just $200,000 plus 1.8 million shares of Dunnedin, the predecessor company, to secure MPD. Consider: Friedland-backed Kaizen Discovery pivoted away from their neighbouring Aspen Grove copper porphyry project after a modest 2016 drill program. Kaizen recently announced plans to restart exploration; it's still listed as a "non-core project" available for sale or joint venture on their website.
(At Great Bear, Taylor and Bob Singh saw potential where others — including Mark O'Dea, who gave up on the property — did not. Great Bear paid $210,000 and 100,000 GBR shares to secure 100% of Dixie including royalties.)
Kodiak is cashed up to expand the drill program in 2021, after closing a $12.7-million private placement that saw neighbour Teck come in with a 9.9% strategic investment. "It's a good start" had been the Teck geologist's poker-faced assessment after a close inspection of the core. Teck is mining 0.29% copper at its Highland Valley Copper mine — Canada's largest open-pit copper operation — about 90 kilometres north of MPD. To the south, Copper Mountain is mining 0.25% copper.
Kodiak now has about $15 million in the treasury, derisking it on the dilution front. The company also retains the Mohave porphyry project in Arizona and the Kahuna diamond project in Nunavut. There are also 2.3 million Brixton Metals (BBB-V) shares Kodiak picked up by selling a non-core asset in the Golden Triangle in August.
The MPD project is about a 45-minute highway drive from Merritt, through Douglas Lake Ranch country (the ranch, one of North America's largest, also has grazing rights at MPD). On the way to site, on a sidewalk in Merritt, we passed a campaigning politician who knows the importance of mining even though he doesn't talk about it much: B.C. NDP premier John Horgan.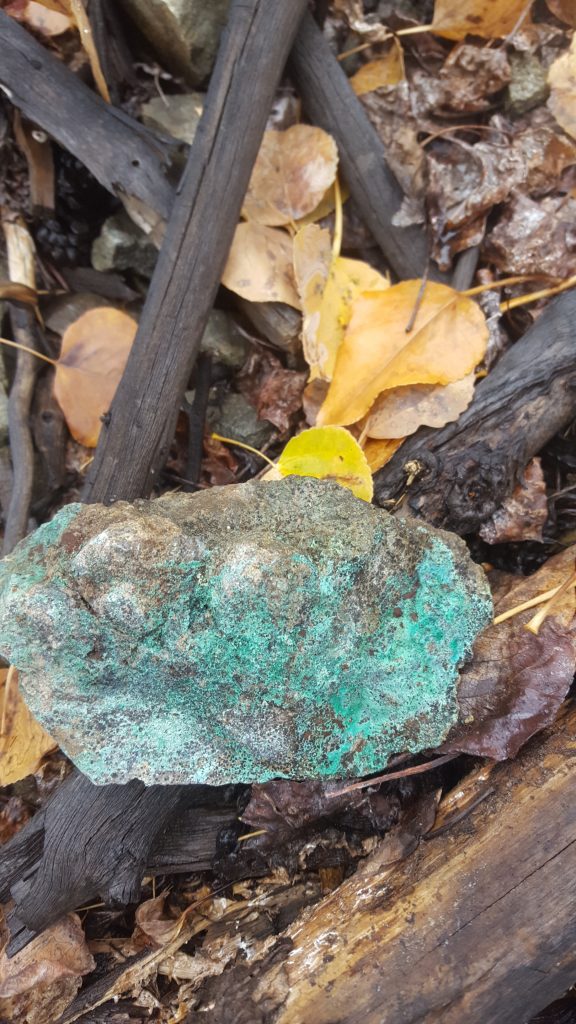 The Man, Prime and Dillard target areas that have seen most of the historical drilling are located in close proximity to each other on the property's northwestern quarter. There are several areas with outcropping malachite and azurite, copper indicator minerals. The Gate Zone discovery is close to Prime, which is in proximity to Missezula Lake. There is a cottage community at the south end of the lake that is located on MPD ground (it's visible on the satellite image if you Google "Missezula Lake"). It's not a fatal flaw. But the lake and cottages are close enough that if an open-pit mine is built at MPD that incorporates Gate Zone, those properties would likely have to be bought out.
Kodiak now has core from each of the three target zones, and there are similarities. Core from Dillard, two kilometres away, looks similar to core from the upper part of the Gate Zone holes. MPD is shaping up to be a multi-zone copper porphyry system with significant gold values. Next Kodiak plans to test a 1.5-km by 300-metre copper in soil anomaly coincident with a mag low that runs south of the current drilling, followed by Gate Zone analogues elsewhere on the property. Taylor told us the Gate Zone reminds him of the Northeast Zone at the Mt. Polley porphyry mine operated by his former employer, Imperial Metals. The copper/gold-rich NE Zone was what allowed Imperial to put Mt. Polley back into production after it had been mothballed.
Gold prospects on the eastern portion of the property — which hosts epithermal/mesothermal mineralization — could be a potential spinout down the road, if Kodiak can delineate an economic ore body at MPD. Northeast of the MPD property is the Elk gold mine, which produced 50,000 ounces of gold grading 3 oz/t from surface. Elk was sold to a private company last year by Ross Beaty's Equinox Gold for $10 million.
Drill results will drive Kodiak's share price trajectory and there is reason to believe pending assays will continue to be good. MPD carries a hefty valuation for an early-stage copper drill play. But with early copper values that are multiples of grades being mined in the neighbourhood at Copper Mountain and Highland Valley — plus gold, this is no run-of-the-mill copper play. Kodiak ticks a lot of boxes:
— Road-accessible property in a mining-friendly area (low drill costs);
— $15 million in the treasury, with no need to finance;
— Tight share structure with strong management and Discovery Group backing;
— The makings of a high-grade copper-gold porphyry deposit, or a multi-zone system.
Kodiak Copper (KDK-V, KDKCF-OTC)
Price: $2.29
Shares out: 44.2 million (51.8M f-d)
Market cap: $101.2 million
Disclosure: James Kwantes owns shares of Kodiak Copper and Kodiak paid a fee for reprint and distribution rights. All investors need to complete their own due diligence on every investment including Kodiak, a high-risk junior mining equity. This Flash Alert is for information purposes and should not be considered financial advice.