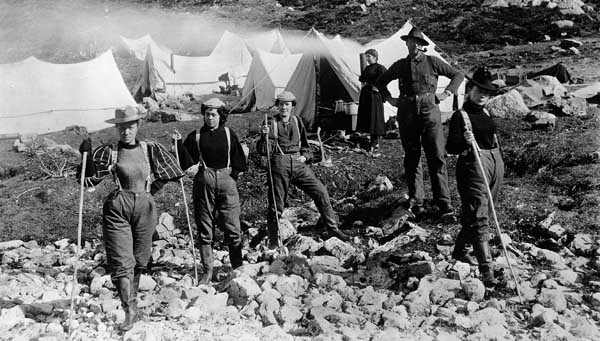 Strategic Metals (SMD-V) is spinning out Trifecta Gold, with 4 projects in Yukon's hot White Gold district
First-mover philosophy helps Strategic beat the majors into Yukon's best area plays
By James Kwantes
Fortunes are made, and sometimes lost, in the great mining rushes that drive people, prospectors and dollars on the heels of exciting discoveries. One of the greatest was the Klondike Gold Rush of 1896-1899, kicked off by the August 1896 discovery of gold at Bonanza Creek by Skookum Jim, Dawson Charlie, George Carmack and Kate Carmack.
Almost a year after the discovery, the SS Portland steamship arrived in Seattle. Among its passengers were several of the most successful Yukon prospectors. Its cargo included more than one tonne of gold. Two days earlier, another gold-laden ship had landed in San Francisco. In Seattle, a crowd of thousands greeted the Portland. The Seattle Post-Intelligencer newspaper screamed "Gold! Gold! Gold! Gold!" in a banner headline. The race was on.
Treasure hunters came by the tens of thousands. But they soon discovered that the prime land around gold-rich creeks had already been staked by prospectors in the Yukon. For some who got in early, it was a ticket to riches.
Fast-forward 120 years and another gold rush is taking shape in the mineral-rich Yukon. This one is being led by major gold mining companies, who are systematically buying up stakes in exploration companies in a jurisdiction the Fraser Institute describes as one of the best in the world. Goldcorp (G-T) kicked off the new gold rush in May 2016 with its $520-million purchase of Kaminak Gold and the multi-million-ounce Coffee deposit in the hot Dawson Range gold belt.
In the original Gold Rush, those who arrived early — before the crowd — were most likely to secure their fortunes. It's no less true today. In the hunt for geological riches, "location, location, location" is key for majors in search of the next big gold district. Public companies that can secure valuable land positions — and investors who get in early — will be the biggest winners.
ENTER BARRICK
The latest major to enter the Yukon is Barrick Gold (ABX-T), the world's largest gold miner. In an option deal announced April 10, Barrick will invest up to a total of $63.3 million in ATAC Resources (ATC-V) for a staged buy-in that will give the miner up to a 70% interest in ATAC's Orion project. The deal includes a flow-through private placement financing of $8.3 million that takes Barrick's stake in ATAC to 19.9%. It's a good deal made even better because the Orion project does not include ATAC's major discoveries — Tiger, Conrad and Osiris.
Given Barrick's history, the partnership with ATAC is a natural. In 1986, Barrick acquired the small Goldstrike mine in Nevada's Carlin trend. Barrick soon hit a rich discovery and Goldstrike turned into a company maker, delivering enormous profits and 50 million ounces of gold production (and counting) to Barrick. ATAC has North America's only known Carlin-type gold mineralization outside Nevada at its vast Rackla project in Yukon. And it was ATAC's 2011 discovery of Carlin-type gold at Rackla that sent the company's stock above $9 that year.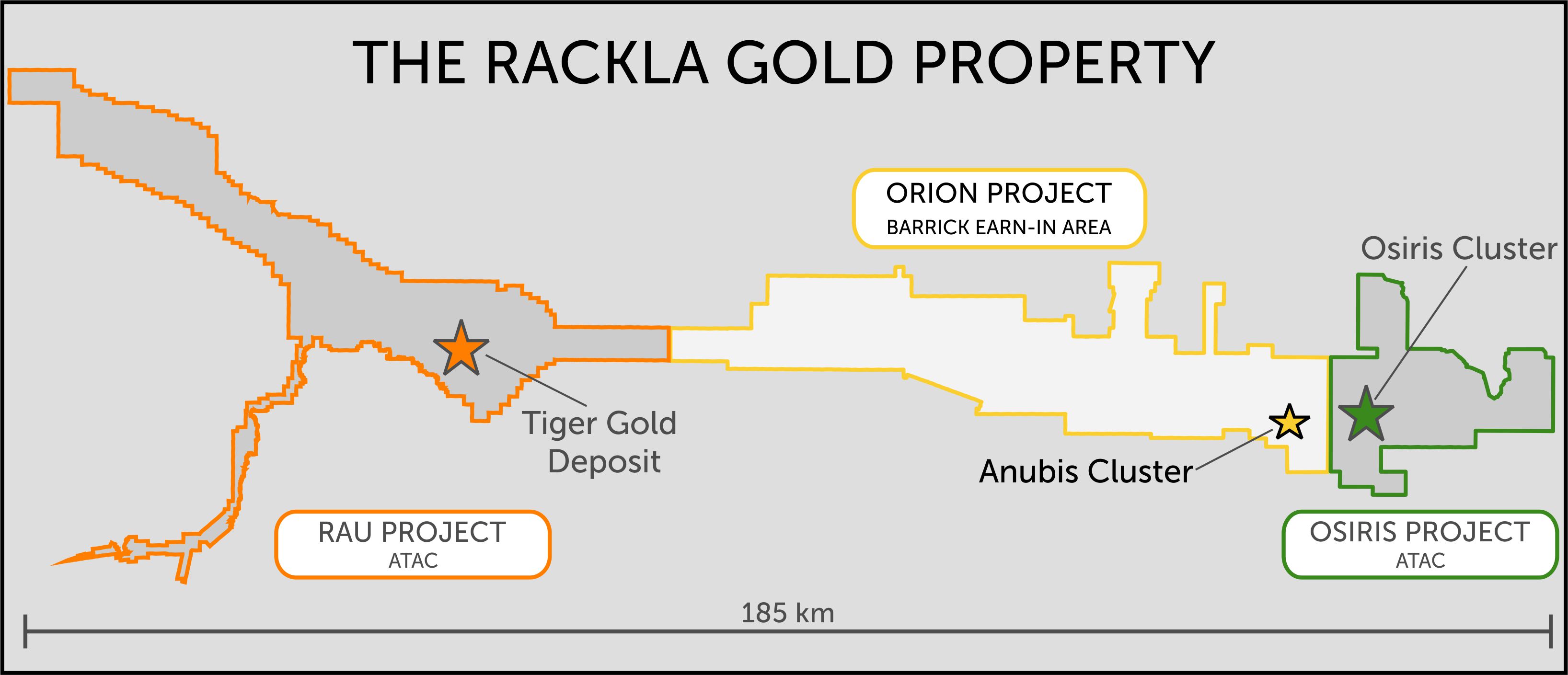 PRIME POSITIONING
As the largest claims holder in the Yukon, no company is better poised to benefit from the majors' renewed Yukon interest than project generator Strategic Metals (SMD-V). Strategic holds valuable land positions in each of Yukon's major mineral belts, assembled over decades using the proprietary database of storied geological consultancy Archer, Cathro & Associates. Archer Cathro has had a hand in most of the Yukon's major mineral discoveries and deposits.
In each of the recent investments by majors, Strategic had already staked claims and was positioned in the neighbourhood. The growing list of majors that have stepped up to secure their Yukon stakes is a who's who of gold miners. Their investments validate Strategic's early-mover philosophy.
The Barrick-ATAC deal was just the latest example. Strategic owns more than 10.1 million shares of ATAC Resources, an 8.3% stake that has increased in value more than 50% since the JV deal was announced. Strategic also has several claims and large land positions adjacent to much of ATAC's Rackla project in Yukon's Nadaleen Trend.
Of any of the investments by majors, Newmont's deal with Yukon junior Goldstrike Resources (GSR-V) may have been the most surprising. The agreement, announced March 6, includes a private placement and could see Newmont invest up to $53 million for a majority stake in Goldstrike's Plateau gold project in the east-central Yukon. It was another case of Strategic beating the majors to a potential district — the project generator had already staked ground in the prospective area. And on April 6 Strategic announced that it had added to its land position near Plateau through staking.
Goldcorp and Coffee — yes, Strategic was already there. It was Strategic CEO Doug Eaton who staked the Dan Man property, which borders Coffee's northern boundary and is owned by Arcus Development Group (ADG-V). The Coffee gold mineralization extends right to the Dan Man property boundary and Goldcorp followed up its purchase of Coffee by buying a 19.9% stake in Arcus. Strategic owns 3,333,333 Arcus shares, a 4.5% stake in the company. Arcus is planning a 2017 drill program at Dan Man, with technical help from Goldcorp.
A NEW WHITE GOLD PLAY, FOR 'FREE'
But the Strategic Metals holding with potentially the most upside remains under the radar, its worth yet to be determined by the market. The company is Trifecta Gold, a new precious metals exploration company that will come out of the gate with four projects in the Yukon's hot White Gold district. Pending shareholder approval — the vote is this Friday — Trifecta shares will be spun out of Strategic Metals early next month. Strategic shareholders will receive one Trifecta common share for each 4.5 Strategic shares held. Trifecta shares will trade as "TG" on the TSX Venture Exchange.
For Trifecta, the last gold play to go public in the prolific district offers a glimpse at the possibilities. It was White Gold Corp (WGO-V), which holds a large land package after purchasing Yukon prospector Shawn Ryan's White Gold claims. Ryan, of course, helped put the district on the map with discoveries that culminated in buyouts from Kinross (Golden Saddle in 2010) and Goldcorp (Coffee in 2016). He's also chief technical advisor for the new exploration play. In late 2016, Agnico Eagle paid $14.5 million for a 19.9% stake in the company, valuing White Gold Corp. at $72.5 million. The market capitalization has since surged past $130 million.
White Gold's trajectory is evidence that the Dawson Range belt has become one of the hottest gold exploration districts globally. With gold approaching US$1,300 an ounce and risk capital tentatively returning to the exploration sector, the timing couldn't be better.
The renewal of action and interest bodes well for Trifecta Gold stock, which is expected to begin trading in early May. The share distribution record date is set for April 27. Investors who own Strategic shares before that date are staking their claim to a promising, tightly held exploration play before the stock hits the public market. Strategic will retain about 9.8% of Trifecta shares and distribute the rest to its shareholders.
Trifecta's properties in the Dawson Range gold belt are:
Eureka — Eureka is a 70-sq-km orogenic gold project at the southern end of the Klondike Goldfields. The Eureka claims straddle the headwaters of two of the most productive placer creeks — Eureka and Black Hills — in the southern Klondike. The creeks have spit out a reported 200,000 ounces of placer gold between 1978 and 2016, and the gold's attributes suggest that it's near source. Eureka is drill-permitted and exploration will focus on a handful of showings identified by soil geochemistry, trenching and drilling. Eureka is along the proposed haulage route to Goldcorp's Coffee project and could progress quickly from exploration to development.
Triple Crown and Treble — The properties are located halfway between Coffee and Rockhaven's (RK-V) Klaza, a polymetallic gold deposit. Initial prospecting at Triple Crown yielded a rock sample assaying 6,680 g/t silver, 30.22% lead and 0.80 g/t gold. A follow-up trench there returned 570 g/t silver, 2.76% lead, 0.08 g/t gold over 6.4 metres and 106 g/t silver, 0.84% lead and 0.03 g/t gold over 9.6 metres. There are several geochemical anomalies at Treble; 2011 prospecting at one of them revealed a 100m by 120m zone of brecciated hydrothermal quartz and gold mineralization in rock samples.
Trident — The road-accessible Trident property consists of 525 claims, 195 wholly owned by Strategic and 330 optioned from two other companies. At the Squid project, optioned from Metals Creek Resources, limited drilling returned results including 21.0 metres of 1.55 g/t gold and 114 g/t silver and 12.0 metres of 1.7 g/t gold and 81.78 g/t silver.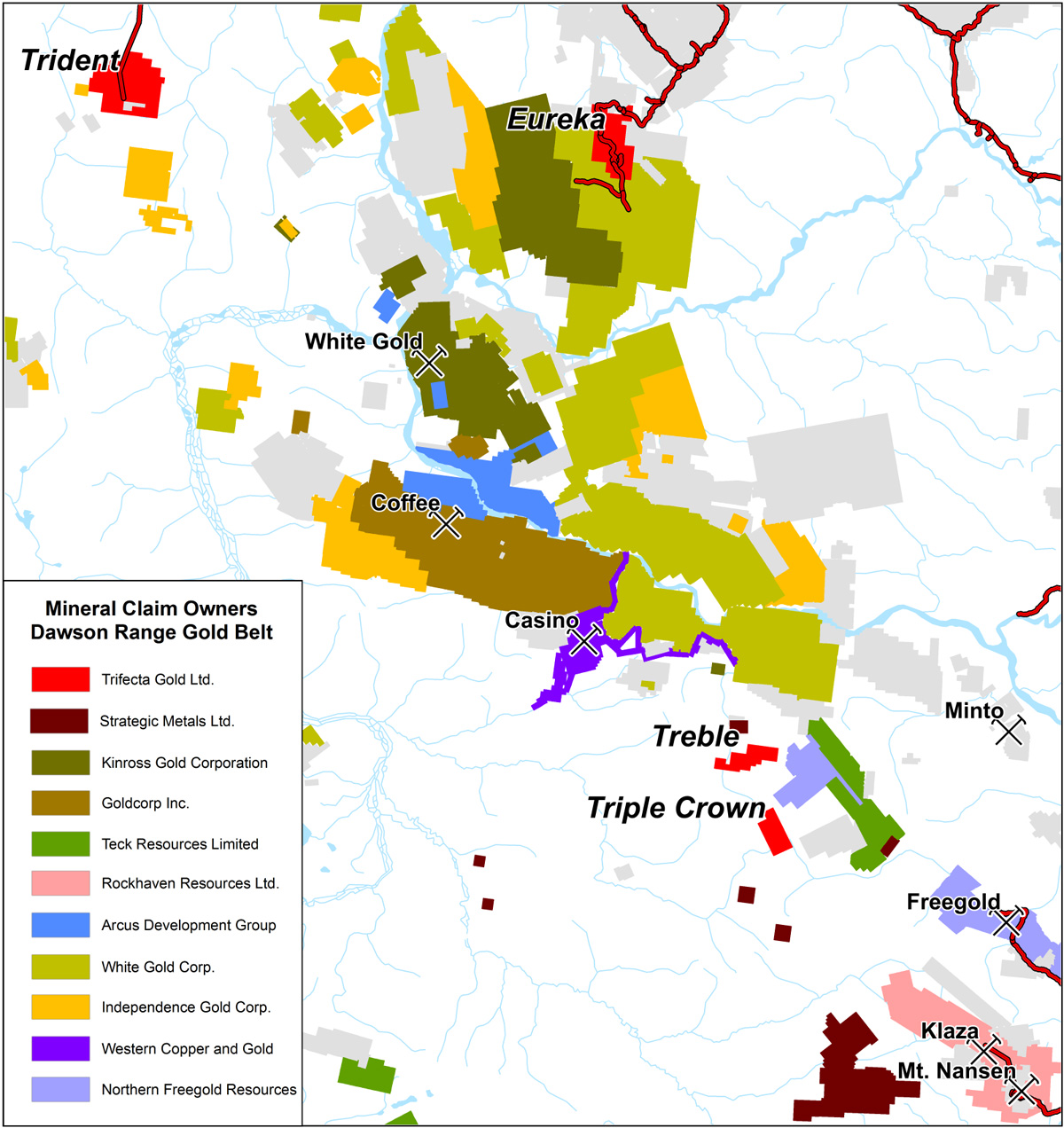 Trifecta's CEO, Dylan Wallinger, witnessed firsthand the type of shareholder value that discovery can create during the summer of 2010. Working out of Archer Cathro's Whitehorse office, Wallinger was part of a small field crew at ATAC's Rau property, where his duties included everything from prospecting to splitting core. The project was not yet a major focus for ATAC. But that changed quickly when assays were returned from one of the cores Wallinger split. It turned out to be the Osiris discovery hole announced on Sept. 1, 2010, which returned 9.26 g/t gold over 31.13 metres within a larger interval averaging 4.65 g/t over 65.20 metres.
That discovery, as gold surged toward an eventual peak of US$1,900/oz the following year, was one of the catalysts that fuelled ATAC's rocket ride in 2010 and 2011. The stock climbed above $8 in 2010 and cracked $9 the following year on excitement about the discovery of a new Carlin-type gold district outside of Nevada.
TRIFECTA CEO: 'PROVE IT OR KILL IT'
As president and CEO of Trifecta, Wallinger will have the chance to play a more central role in creating shareholder value. The former Archer Cathro project manager has stepped down as a partner with the geological consultancy to focus on Trifecta. Strategic is seeding Trifecta with about $750,000. Depending on the work program, Wallinger knows he'll have to raise more money. The CEO wants to finance at higher prices than where Trifecta shares start trading.
Trident may be Trifecta's most intriguing project. The road-accessible property hosts an air strip and several roads, as well as gently sloping terrain amenable to a mining operation. There are drill permits in place but Trifecta has applied for more extensive permits. Trident has resource-sharing possibilities — there's a producing placer mine on the property — but also spending obligations. On the Squid option, Trifecta must spend a minimum of $500,000 in the first year ($2.25 million over three years and issue 6.5 million TG shares) as part of a staged 60% earn-in.
Wallinger says Trifecta won't spend any more than necessary to either prove mineralization at the optioned claims or walk away. If results are positive, the company plans to mobilize more drills, heavy equipment and fuel by road and continue to work into late fall. "The idea is to go in and explore aggressively, and prove it or kill it," Wallinger says.
Strategic has more than 100 wholly owned projects in Yukon available for option, many of which are drill-ready and fully permitted for advanced exploration.The company also has an investment fund with dozens of junior exploration investments at various stages of development. Strategic owns major stakes in:
Rockhaven Resources (RK-V) — Strategic owns a 45.2% stake in Rockhaven, which is expanding and advancing the high-grade, polymetallic Klaza deposit towards production;
Precipitate Gold (PRG-V) — Strategic owns 31.2% of Precipitate, which is advancing the flagship Juan de Herrera project located within the emerging Tireo Gold Camp in the Dominican Republic;
Silver Range Resources (SNG-V) — Strategic owns 15.3% of Silver Range, which owns four zinc-lead-silver projects in Yukon and high-grade gold projects in NWT, Nunavut and Nevada.
For some mining-focused investors, one of the knocks on project generators is a structure that prevents them from capturing the full shareholder value driven by discovery. But with the spinout of Trifecta Gold, Strategic is changing the game by surfacing value unrecognized by the market. Shareholders will have exposure to both discovery upside in one of the world's hottest exploration districts AND the diversification of Strategic's valuable shareholdings and Yukon claims. The price tag is low — Strategic's working capital amounts to almost $40 million currently and its market cap is just $50 million.
Price: 0.58
Shares outstanding: 89.1 million
Market cap: $51.7 million
Working capital: $39 million
The Yukon is a major focus for Resource Opportunities and subscribers have enjoyed several wins as the best Yukon companies get rerated. Get high-potential junior resource stories first by subscribing to the premium Resource Opportunities newsletter today: Resource Opportunities. The cost is just $299 a year or $449 for two years, well below the price of a single profitable trade.
Disclosure: The author owns shares of Strategic Metals, Rockhaven Resources, Silver Range Resources and Arcus Development Group. Strategic Metals is one of three Resource Opportunities sponsors, who help support the subscriber-funded newsletter by keeping subscription prices low. The work included in this article is based on SEDAR filings, current events, interviews, and corporate press releases. It may contain errors, and you shouldn't make any investment decision based solely on what you read here. This publication contains forward-looking statements, including but not limited to comments regarding predictions and projections. Forward-looking statements address future events and conditions and therefore involve inherent risks and uncertainties. Actual results may differ materially from those currently anticipated in such statements. This publication is provided for informational and entertainment purposes only and is not a recommendation to buy or sell any security. Always thoroughly do your own due diligence and talk to a licensed investment adviser prior to making any investment decisions. Junior resource companies can easily lose 100% of their value, so read company profiles on www.SEDAR.com for important risk disclosures. It's your money and your responsibility.