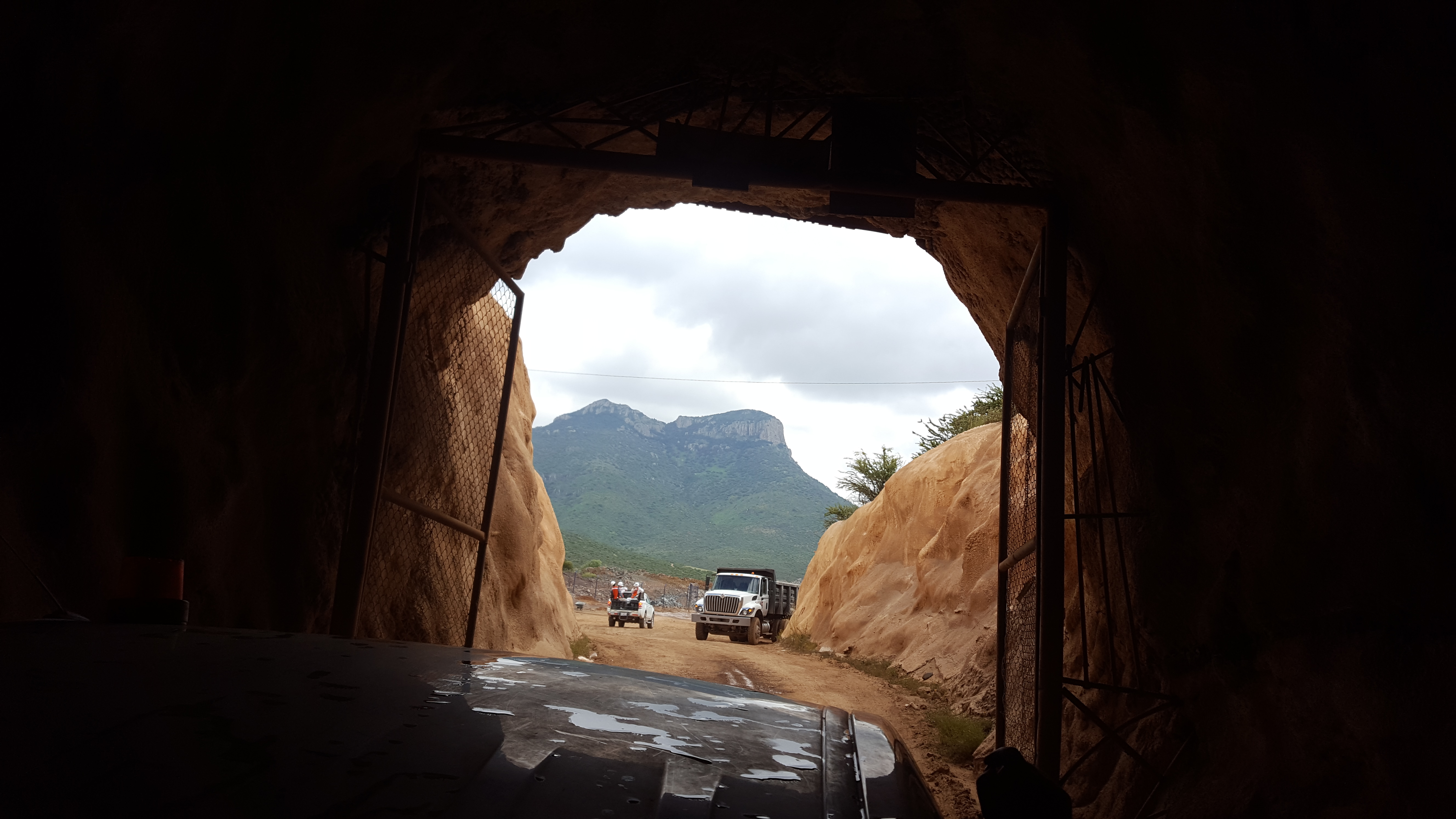 Long before Hollywood directors made it a favoured setting for westerns … before Pancho Villa rose from the poverty of a hacienda there to become an important Revolutionary general … the Mexican state of Durango was a major center for global silver production.
Understanding silver's role in Mexico – formerly part of "New Spain" – requires stepping back about 500 years. The precious metal has been mined in Durango since the time of the Spanish conquest, more or less continuously. Silver enriched the Spanish king and bolstered the treasury, helping fund wars against European rivals. It also funded a magnificent cathedral that still stands in the state capital, also named Durango. And coins minted from Mexican silver soon became a global currency.
One of the sources of that mineral wealth was Avino, the "mountain of silver" on the eastern flank of the Sierra Madre mountains outside of the city of Durango. It's an ore body now being mined by Vancouver-based Avino Silver & Gold Mines (ASM-T). Avino produces silver, as well as gold and copper, from two underground mines: the main Avino deposit and San Gonzalo, a small higher-grade deposit about two kilometres away.
The metal remains a major export for Mexico, and Avino's silver still makes its way around the world. But these days, it's purchased by a division of Samsung. Samsung C&T purchases all of Avino's production at spot prices and ships it to smelters in Asia.
Avino was founded by current CEO David Wolfin's father Lou Wolfin (right), who in 1968 bought a 49% stake in the mothballed Mexican mine — which had closed in 1912 due to the Mexican Revolution. The joint venture put the mine back into production, and Avino later purchased the remaining stake from the Mexican family that owned it. Avino's 50-year history is one of the features that sets the company apart in a junior mining sector where longevity is typically measured in years, not decades.
CEO David Wolfin's roots at Avino run deep, too — as a teenager, he worked in the underground mine. Lou Wolfin, who died on March 3, 2017 at age 85, was an entrepreneur and inventor who showed a willingness to invest where others feared to tread. And although the company founder's path to silver mining in Durango started on Howe Street, it began with a detour through Beverly Hills.
That's where the elder Wolfin met Mexican entrepreneur Fernando Ysita at a party in the late 1960s. The chance Hollywood encounter led to forays into Mexico and eventually, a major investment. Avino purchased a 49-per-cent stake (the maximum allowed) in 1968 when Mexico re-opened to foreign investment. The company later bought the rest of the mine from the Ysita family.
Lou Wolfin was a contemporary of Murray Pezim and a bit of a legend in Vancouver business circles. A former stockbroker, Wolfin bought a seat on the Vancouver Stock Exchange in 1960 and later opened a Vancouver brokerage house. His entrepreneurial instincts extended far beyond mining – he owned the patent on holograms and developed a keyless door-lock entry system decades before those became common.
But it's in mining that the elder Wolfin's legacy is felt most acutely. He wasn't there to see it, but Avino celebrated its 50-year milestone at the Vancouver Resource and Investment Conference in January. Among those at the party were employees who had been there from the beginning, as well as a contingent from Samsung headquarters in Seoul, South Korea.
I toured the Avino mines — which also produce gold and copper concentrates — on a site visit to Durango late last year. After flying into the state capital of Durango via Mexico City, we shuttled to the Hotel Gobernador, a hacienda that was formerly a state prison (complete with bullet holes on one of the outer walls). Our group, mostly German investors and analysts, was hosted by Avino CEO David Wolfin, COO Carlos Rodrigues and investor relations manager Jennifer North.
The mine is about an hour-and-a-half drive through towns and a countryside that looks familiar thanks to westerns such as How The West Was Won and Butch Cassidy and the Sundance Kid. The city of Durango has its own walk of fame featuring Hollywood stars on the sidewalk and several bronze statues including John Wayne — The Duke totes a rifle missing its barrel. (John Candy died of a heart attack in the city in 1994 during a break from filming Wagons East.)
At the mine, silver, gold and copper concentrates are processed using a flotation circuit from ore mined at Avino and San Gonzalo. For the last three years, production has held steady at or above the 2.7 million ounces silver-equivalent produced in 2017 (2.68M AgEq oz in 2016, 3M AgEq oz in 2015).
But a project under construction when I visited and now largely complete should hike that total significantly: the fourth mill circuit. That circuit — with a ball mill purchased from a Quebec mine — is now complete and set to process ore in the first quarter of 2019. The circuit is projected to boost capacity by about 70%, to 2,500 tonnes per day. Once the fourth circuit is commissioned, it will process ore from the San Luis (expansion) area of the Avino mine.
Avino announced Q3 2018 production on Oct. 15 and the company's silver-equivalent production dropped by 7% year-over-year, to 704,429 ounces AgEq. Avino produced 342,151 ounces of silver (down 7% YOY), 2,204 ounces of gold (down 18% YOY) and 992,271 pounds of copper (down 10% YOY). The lower production and declining grades are partly because San Gonzalo is reaching the end of its mine life as Avino transitions to San Luis ore.
About 90 per cent of Avino's workers live in villages a short drive away from the mine. The local workers have been a constant for the last five centuries – the jobs pay well and are highly coveted. It's quite a contrast to the fly-in, fly-out contract mining methods at many modern mines. That helps on the community relations front, in addition to Avino's decades-long presence there.
The Sinaloa cartel operates in Durango but our group travelled without guards or security, and neither is there a visible security presence at the mine. There are signs of a cartel presence if you pay attention, however, in and around Durango. The police station outside the city is built high on a hill and resembles a fortress. A prison we passed also looked seriously secure.
At the mine site, our group of analysts, investors and newsletter writers donned waterproof protective and safety gear and descended into both mines, the temperature rising with each lower level. It was vaguely reminiscent of the silver price, which has fallen more or less consistently and is now stuck at US$14 after running to almost $50 an ounce in April 2011.
That's made it tough for silver producers to make money, and Avino is no exception. The company is also in expansion mode; there are exploration drilling projects at both the Avino mine and at the company's Bralorne project in British Columbia. Avino is also investigating the economics of processing oxide tailings at Avino. It all costs money, and Avino recently raised US$4.6 million through the sale of 65-cent (US) units.
Each unit consisted of one 65-cent share and a full five-year warrant exercisable at 80 cents. But the financing was announced with shares at 79 cents US, and the below-market pricing prompted a selloff in the stock. In conjunction with Q3 production numbers, released October 15, Avino announced cost-reduction initiatives (capital, operating and administrative) at its operations in Mexico and British Columbia.
There are other examples in Avino's neighbourhood of how silver's struggles have hit other producers. Nearby is Coeur Mining's mothballed Preciosa silver deposit, purchased for $382 million from Orko Silver in 2013. That deal was done with silver at about US$30 an ounce.
Growing production from the fourth circuit gives Avino good leverage to rising silver prices. When that occurs is anybody's guess, but the silver price has a track record of bouncing hard when it reverses. One measure suggestive of a silver bull market is the gold-silver ratio, which is above 80 and near a historical record. Silver has made outsized returns each time it has reached these levels.
Avino also has leverage to gold at Bralorne, its under-the-radar Canadian project. Bralorne is nestled amid rugged mountains in British Columbia's South Chilcotin range. It was the epicenter of a major gold mining camp that produced 4.2 million ounces of gold between 1928 and 1971. The three adjacent mines — Bralorne, Pioneer and King — produced extremely high-grade ore. Average head grades were above 0.5 ounces per tonne, or 14 g/t gold — multiples of global mined grades that are now below 1 g/t Au.
Bralorne, where Avino is in the middle of a fully funded 28,000-metre drill program, has the potential to become the flagship and a company maker, if things work out. The project already hosts a state-of-the-art water treatment system and dozens of kilometres of underground workings as well as brand-new mining equipment. The latter equipment — including two scoop trams and a jumbo drill — was purchased as part of a prior plan to start small and ramp up production. The company now plans to focus on expanding the historical resource before starting up a larger mine.
As with Avino, Lou Wolfin played a key role in securing the property, including the historical mine workings. Wolfin bought the Bralorne-Pioneer Mines from Homestake and brought it into Avino in 1990. He got Bralorne running at 100 tonnes per day (in a separate company) but the mine shut down due to low silver prices. Bralorne was brought back into Avino in 2014.
Avino funded the drill program through a $6-million flow-through financing priced at $2.00 (Cdn) per share. The drill program is the most extensive in the project's history, and includes both exploration and resource drilling. The company is using two drill rigs; assay results should start landing in the first quarter of 2019.
The existing Bralorne resource, announced on Oct. 21, 2016, is 91,528 ounces Measured and Indicated at average grades of 0.33 oz/t gold (9.36 g/t) and 83,900 ounces Inferred at 0.22 oz/t gold (6.2 g/t).
Independent geoscientist Garth Kirkham of Kirkham Geosystems completed the NI 43-101 resource model and also played a major role in designing the current drill program. Kirkham is an award-winning geoscientist known for his resource estimation and 3D modelling work. He has worked extensively with John Robins' Discovery Group companies, including Kaminak Gold (acquired by Goldcorp) and Bluestone Resources (BSR-V). The drilling follows structural modelling and geological mapping as well as airborne and ground geophysics.
Avino's investment proposition is that of a stable silver producer with growing, lower-grade deposits and a call option on high-grade gold at Bralorne, where drill assays could provide catalysts for the share price.
Avino Silver and Gold Mines (ASM-T)
Price: 0.75
Shares outstanding: 63.3 million (75.5 million fully diluted)
Market cap: $47.5 million
Disclosure: James Kwantes has been compensated by Avino Silver & Gold Mines to produce this article and Avino paid for costs of the site visit to Mexico. Avino Silver & Gold Mines is not a Resource Opportunities portfolio company. This article is for informational purposes and does not constitute investment advice. All investors need to do their own due diligence.